IN THE COURTROOM WITH ROCKS: PLAYGROUND
Installation
2023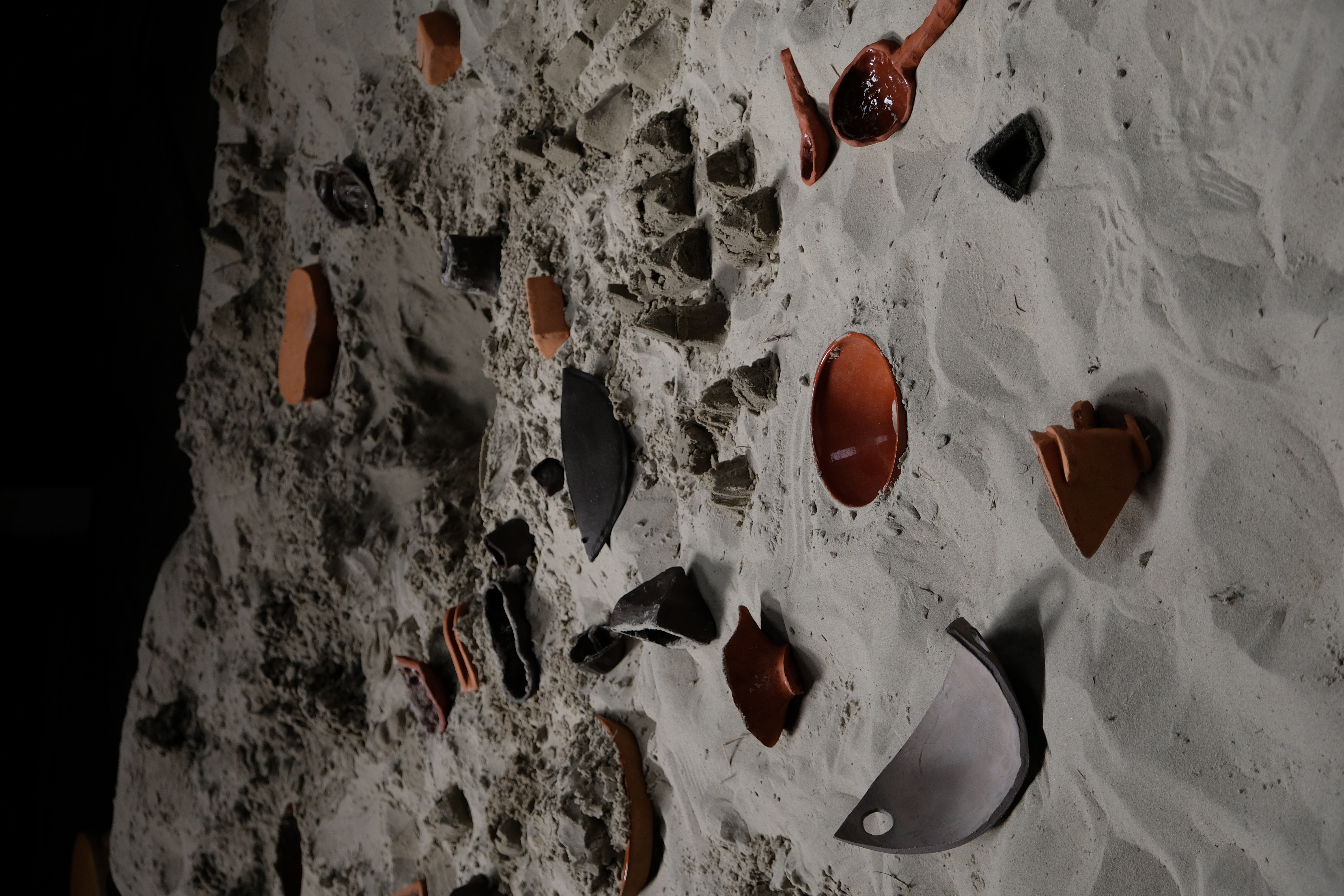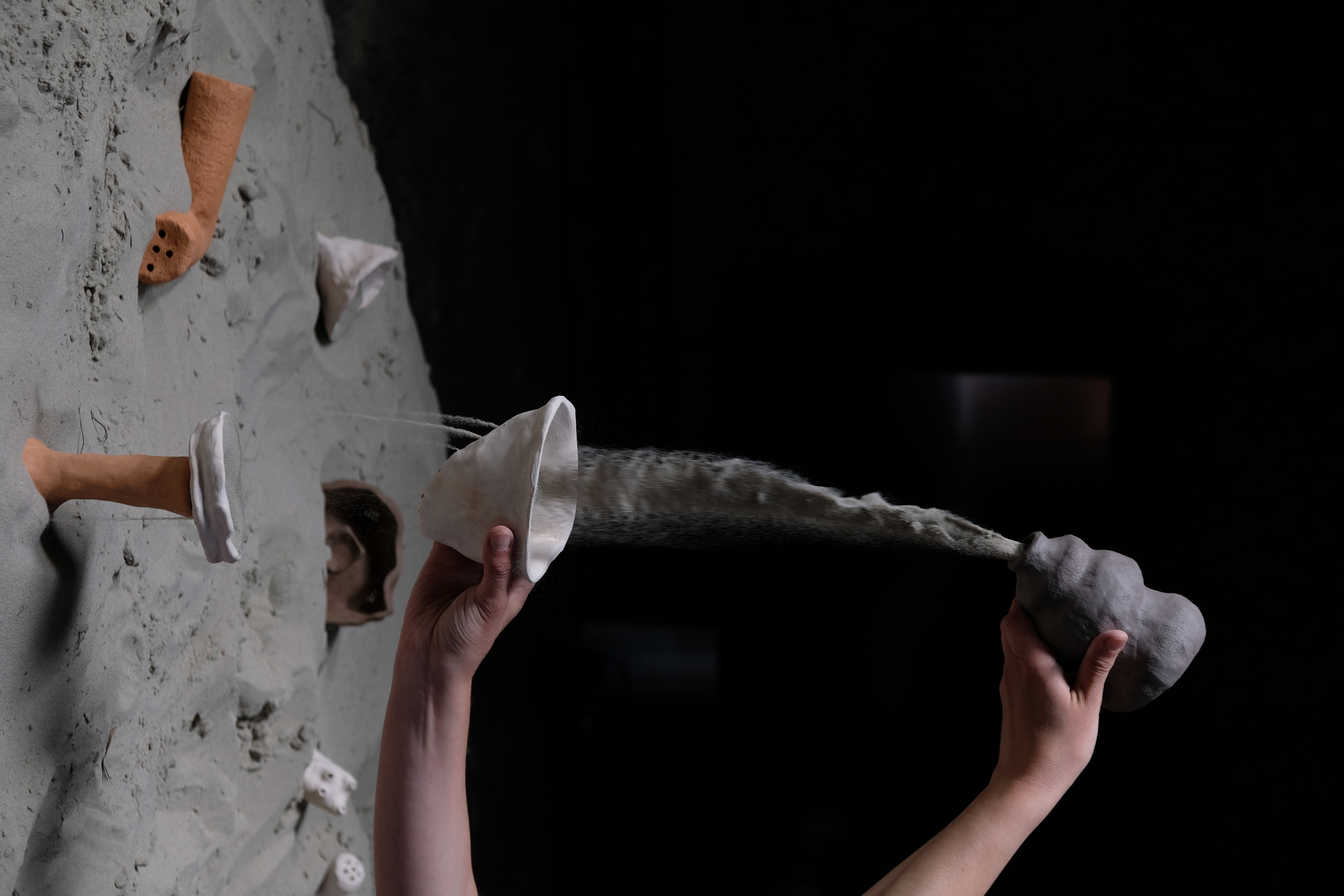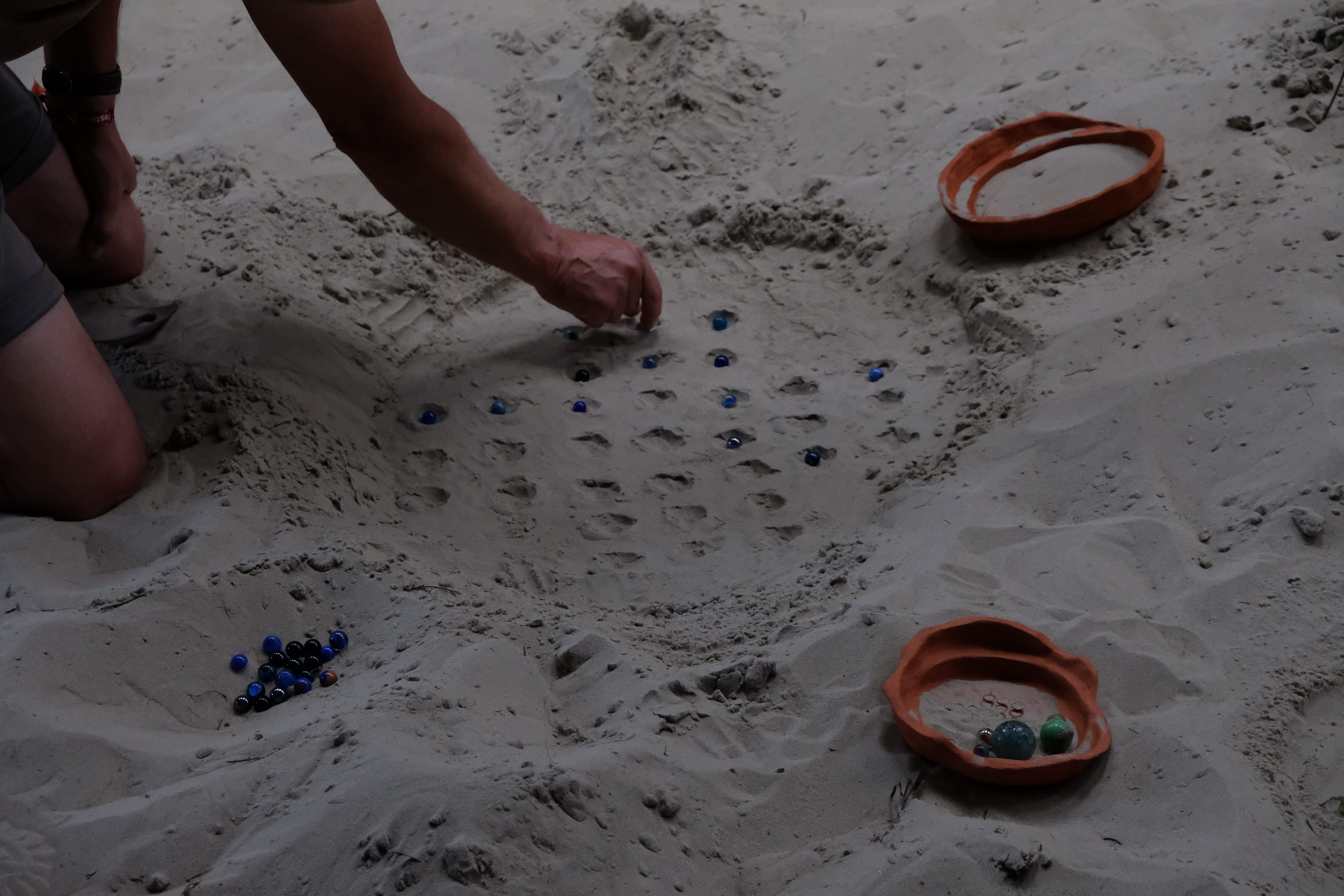 Between watching films from the project 'In the Courtroom with Rocks' visitors of the 'Courtroom' were invited to play in a pile of sand with ceramic and wooden instruments based on mining practices. The installation reflected on the movement of raw materials in a landscape and the separation of 'pure' and waste material. The pile of sand was shifted, sifted, prodded, dug into, slapped into molds and played in, leaving new traces/scars/pits each day of the festival.
The installation was part of the Expedition route at Oerol 2023.


A MINE AND IT'S WATERY EXTENSIONS
Installation
2022
When an iron ore mine breaches the water table, local springs run dry, heavy metals seep into wells. Water that feeds the Jamun trees, the Bison and the Rasbora, trickles into the acidic stomach of the mine, only to be pumped out again. Further down the production line, the iron ore is bathed in water and sent off on its journey down the Mandovi river. The same river that the Portuguese colonizers sailed up 450 years ago and drew the first mining leases.




The installation, an ode to the beings and the water affected by iron ore mining in Goa, was part of the project 'In the Courtroom with Rocks', created together with Marina Sulima.

Photographed by Monika Balu
Fe203 A DREAM
Short film, 9'55"
2022
The film is part of the exhibition 'In the Courtroom with Rocks', created together with Marina Sulima.
watch the film here
THE SPECTATORS
Animation, installation 3'16"
2021
The Spectators is an installation and animation featuring the Slingertuin, a care farm where animals play a role in the healing of people. This farm, like many others in the province of Groningen, has been damaged by earthquakes, caused by decades of gas mining. While filming the animals, I noticed one inquisitive guineafowl was keeping an eye on me and Niels, the goose, shimmied and screeched at me regularly. They reminded me that I am also a predator and an intruder along with an artist, human etc.




I was invited by Museum Villa Mondriaan to respond to one of Piet Mondriaan's early paintings, Boerderij 1895. The work was part of the exhibition Jong en Veelbelovend at Museum Villa Mondriaan in Winterswijk in 2021.